Whether you are dealers or traders of pet industry, or maybe you own a pet shop or online store, it is convenient to purchase your favorite pet supplies in our petsoo.com. We are very pleased to provide you with high quality and low overhead pet supplies from China.

First, you need to be registered as a member of the wholesalers. You can click the MY Account, at the top of the upper right corner of the website, to complete the registration online, or you can also click here to jump directly to the registration page. When your registration is complete and log on to our website, you can see the wholesale prices of all commodities displayed below the retail prices.
How to get our wholesale price?

For all of our customers, whether wholesaler or retailer, if you order our products over 30 pcs each time, we can offer you wholesale price. Our shopping cart system will automatically change the your price to the wholesale price. It's sure that you can choose 30 items of different color, style and size.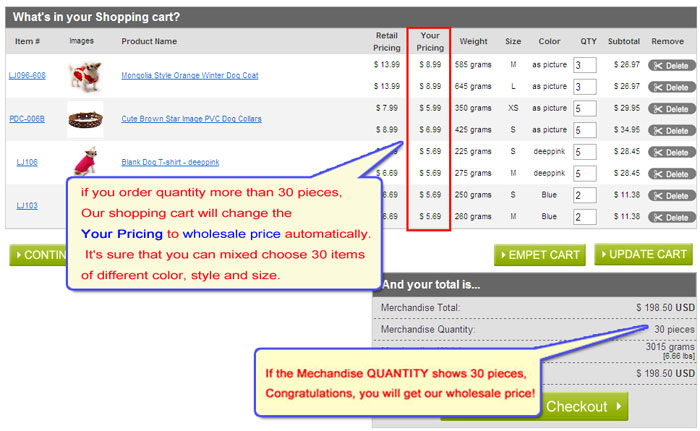 How get FREE SHIPPING server?
For all of our customers, if you order our products over 30 pcs each time, you will get wholesale price, more than 200 pcs will enjoy free shipping service.
Learn more.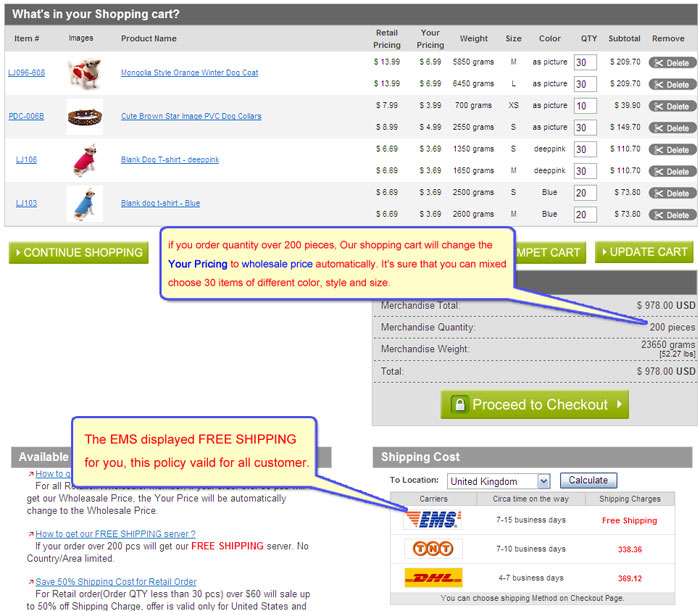 In addition, the products sold in dozen only display the wholesale price. No matter what quantity you buy, we are sorry the price will not change. The only difference between a dozen and 30 dozen is the quantity:
To buy a dozen item, we will send 12 pieces to you and 30 dozen items, we will send 30*12=360 pieces to you. That means that a dozen stands for 12 pieces.
According to the rules of our shopping cart system, it should be noted that a dozen will show you quantity 1, not 12. But don't worry, we will send you 12 pieces products.
Except dozen sale products, other products show it according to the number of actual purchase. If you want to get the wholesale price, please pay more attention to the number of the shopping items in the lower right corner of the shopping cart page. If the AMOUNT QUANTITY shows 30, congratulations, you will get our wholesale price.
If you have any questions or need our help, please feel free to
contact us
!